Prologue: I want it all
"I feel I cannot be put into a box of just one concept. I think that everyone is a whole mixture of personalities, and I feel that's particularly true of myself." Annie Lennox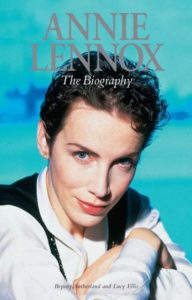 Wild eyes askew behind the mask, a trace of a sneer on her immaculately drawn lips, her tanned limbs flexing and forming a threatening fist, Annie Lennox glares at the photographer with a mutinous air of challenge. She is an android, or an androgyny; her 'razor blade smile' simultaneously beckoning and discarding criticism. But she sings like an angel.
Few have missed that most memorable visual image of the early Eighties. Nearly two decades later, the photographer's subject still patiently shrugs off the 'androgynous' tag which has clung to her since she reigned supreme as a gender-bending queen.
She has exacted an art form of keeping her private life just that; frequently denouncing glossy magazines as an "invasion" and sighing, "Personally, I don't see that talking about myself is interesting to people." Yet, presenting the perfect dichotomy, the poor Scots lass made good freely concedes, "Everything I write is about myself."
Few lives could be catalogued as intriguingly as in the searing words and musical mastery of hits such as 'Sweet Dreams (Are Made Of This)', 'Who's That Girl?', 'Here Comes The Rain Again', 'Beethoven (I Love To Listen To)', 'You Have Placed A Chill In My Heart' or 'Why'. Each of these tracks, and countless others, crystallises not just a genre of music but also an era, bringing back into focus periods of dramatic social and political change. Not necessarily consciously, fans of this esoteric mother-of-two have witnessed an ongoing autobiography of depression and joy, heartbreak and desire, and an unrivalled perfectionist's viewpoint on life.
The ability to balance a formal education at the prestigious Royal Academy of Music with an assertive need to rebel, a highly individual voice, multi-layered songwriting skills and a strong sense of visual presentation has become her trademark. Rarely has her music appeared anodyne or mundane. Always she has experimented to the extreme, along the way unpredictably blurring the lines between male and female, love and obsession, security and danger.
Her creative development was immeasurably amplified on meeting Dave Stewart; four years her lover and now recently reunited collaborator. Theirs has been a relationship of dependency, cruelty and devotion, producing almost as a by-product musical masterpieces that amply charted a decade.
All too frequently Stewart is deemed a mad professor of the recording studio, yet alongside co-writing songs with over 70 other major artists, he has successfully branched out into photography and film directing. Like his female counterpart, his work for charity is faultless, and tireless.
The two presented a united front through Annie's rise from Joni Mitchell-styled singer/songwriter, to three minutes of plastic-clad fame in power pop group The Tourists, before securing a place in history as the enigmatic frontwoman of Eurythmics. For the first half of Eurythmics' career it was assumed Annie was merely a voice for Dave Stewart's compositions. Even when she achieved recognition as a gifted lyricist in her own right, critics, often more preoccupied with beating her strong views to a pulp, maintained it was only Dave's manic wizardry that kept the hit machine afloat. How wrong they were proven when Annie embarked on a hugely successful solo career, outselling umpteen Eurythmics records with her debut offering, Diva.
The accolades Annie Lennox has earned within her profession speak volumes about the sheer impact she has made on the music world over the last two decades. The millennium edition of the Guinness Book Of World Records lists her as the artist who has won the most BRIT Awards since the ceremony's conception: an unprecedented seven in total for both solo and group work. The most poignant BRIT distinction has since been added; the 'Outstanding Contribution To British Music' award, which Eurythmics accepted in February 1999.
Of course, this last major achievement was a significant catalyst in propelling Annie and Dave into admitting that a decade apart was quite long enough. Their reunion was officially announced shortly after and the resulting album, Peace, surpassed all expectations; soaring on the back of a triumphant world tour - the profits of which went directly to charity without so much as touching the inner lining of the stars' pockets.
Naturally Annie's success is not just measured in her home country, and she has collected a handful of Grammys, as well as being frequently honoured by the likes of MTV and VH1 for her phenomenal onscreen performances as much as her musical output. As a solo artiste, Annie was from the outset exceptionally well received, but it is perhaps the prolific pop of Eurythmics that is best remembered; selling tens of millions of albums and spending well over 200 weeks in the singles charts, let alone nine cumulative years in the album charts.
"I'm just trying to do something interesting," she told Record Mirror in the late Eighties. "Life as I've experienced it has been a very complex affair. It's not always been easy, there are tensions going on between moments when you're calm and at ease with yourself and other times when it's not like that at all and it's all very threatening. As I said in Savage, 'everything is fiction, all cynic to the bone', and I feel like that sometimes."
Annie has not led a charmed life by any means and has fought tooth and nail to retain both her sanity and integrity in the face of on-going criticism and speculation. Her chosen career has presented a minefield of obstacles; as she herself once permitted, "If you want to be in a pop group, you either become completely debauched and die of a drug overdose after a couple of years, or else you renounce everything and live like a nun. I think I've straddled them both."
Her dual personality continues to inform her every action. The need for privacy and urge to be confrontational exist side by side. In the earlier stages of her career she took delight in mocking the very industry that exalted her by arriving at events provocatively dressed and prepared for battle. Yet she still readily admits that she yearns for the attention, and continues to return to it after uneven periods of 'retirement'.
"When I was a child I had a lot of fantasies, this is like living in them," she said excitably at the height of her first taste of Eurythmic fame. "The wigs, the videos with flash cars, even seeing myself on magazine covers - it's like a dream in many ways."
Despite being mistaken for a drag queen by narrow-minded MTV executives when first seen removing her prostitute's wig in the groundbreaking 'Love Is A Stranger' video, Annie has become an unlikely heroine for feminists, gays and traditionalists alike. "I took a lot of risks in my personal life," she states. "I always lived in a very full way, I can't do anything half-heartedly. I'm not grey, I'm either black or white. I always ran the risk of getting badly hurt through my experiences and destroying myself. I think that's common to a lot of women."
Indeed, Annie successfully pre-empted a whole generation of Nineties female talent and an altered perception of womankind by at least a decade, as former colleague Jack Steven stresses, "She was the pioneer of girl power, that's one of the things that made it so special. But also that she's smart, intellectual and creative."
Dave Stewart himself is perhaps best placed to offer the truest insight into the personality behind the myth. "Her strength is her intensity," he says, "she's not a person who messes around or does things for a laugh... which can also be her weakness as well because she gets too intensive..."
At the dawn of a new millennium, Annie shows no sign of discarding her performer's garb. Yet age has mellowed her. Always the first to self-deprecate, this self-made diva once proclaimed, "I'm not hanging on to success. If I've no right to be up there singing then I won't be. As soon as you start to be a has-been you should get out and find yourself a piece of pride and some fresh pastures. You don't do anyone any favours by hanging around."
Should the time ever arrive when Annie Lennox departs the spotlight for good, she will certainly be sorely missed, in any of her numerous incarnations.