EUMOM
Bryony wrote well over 150 blogs, articles, banners, landing pages, advertorials, weekly emails and newsletters for this leading Irish parenting site, which was the recipient of the Best Family Website award at the Maternity & Infant Awards 2013. Bryony's bylined work on Eumom lead to numerous commissions on various other Irish parenting websites, including Giraffe, Baby Travel Shop, and First1000Days (a large-scale baby and toddler nutrition partner project with Danone). Thanks to her exposure on these sites, Bryony now writes regularly for a major global pharmaceutical company, encompassing several well-known health and beauty brands. Bryony has previously written for Babyworld, Handbag and iVillage.
Aisling O'Donoghue, Content Manager for Eumom: 'Bryony is great to work with; her attention to detail is second to none. I highly recommend her.'
LET'S TALK BREASTS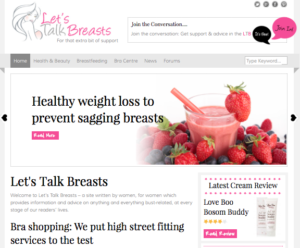 Bryony was the editor and primary writer for this unique health and beauty site, offering information and advice on anything and everything bust-related for women of all ages, including breastfeeding, common health queries, bras, breast cancer and plastic surgery. She also provided numerous cream, book, film and app reviews, as well as feminist opinion pieces.
Natalie Smith, Director: 'Bryony is without a doubt one of the top writers you can find. Her articles are exceptional - engaging and well written. She knows how to adjust the tone of each article to match the topic and even manages to present scientific material in a very engaging and interesting way, which not many people can do. Highly recommended!' 
FitSteps® is the dance fitness phenomenon fronted by Strictly Come Dancing's Natalie Lowe and Ian Waite, and Britain's champion swimmer, Mark Foster.
Bryony wrote and edited regular content and monthly newsletters for FitSteps® trainers and members, as well as conducting interviews with the stars and producing press releases publicising the franchise. Her content appeared in magazines such as Hello! and New together with many online fitness websites.
Tim Fearon, FitSteps® Director: 'Bryony is the epitome of everything you could want in a freelancer. She is fast, accurate and has given me exactly what I wanted and requested. She's also a pleasure to work with. I can't imagine looking anywhere else in the future for this type of work.'
Featured in The Sunday Times, The Independent and The Telegraph, MyTutorWeb is an innovative website connecting GCSE and A-Level pupils with online tutors, who coach them in real time via the site's virtual classrooms. Working closely with MyTutorWeb's founder, Bryony wrote the initial multilayered website from concept upwards.
Robert Grabiner, MyTutorWeb Founder & Director: 'Bryony did a great job on copy for the website for MyTutorWeb and I have no hesitation in recommending her to you. She brought creativity, structure and order to the web pages, writing in an authoritative, fun style which was very important for this educational family audience. She had great enthusiasm for the work and never missed a deadline. She is very precise and pays great attention to detail ensuring consistency and accurate grammar, syntax and punctuation. She advised on other aspects of the design and gave useful feedback for the video script.'