Julie Walters: Seriously Funny | Biographies | Written by Bryony
Prologue: A National Treasure
'I remember someone saying that acting was about being dishonest and that prickled me. It's the opposite; it's a way of trying to find the real truth and the reality of the person you're playing.' Julie Walters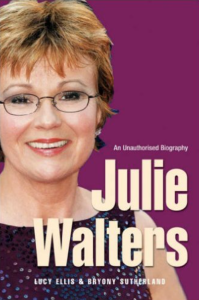 Julie Walters employs this straight-talking interpretation in life, tackling her changing issues with assured candour. Fate has thrown her many curve balls, but she has taken them all in her stride.
Born into poverty in Birmingham in 1950, Julie had a tough upbringing. Her strict, emotionally undemonstrative mother, Mary, had high ambitions for her three children and consequently pushed them from an early age. Julie was the only girl and was intended to become a well-behaved, 'proper' lady. The mischievous youngster, however, had other ideas and loved being the centre of attention.
Julie caused havoc throughout her education and brief spell at nursing college; she played truant, initiated pranks and took every opportunity to make light of a situation. It turned out that she was simply bored and her latent desire to entertain turned into an overwhelming passion for acting.
To that end she joined the drama course at Manchester Polytechnic, followed by a couple of years at Liverpool's Everyman Theatre. There she met and formed many strong friendships including one with playwright Alan Bleasdale, with whom she has worked countless times. Once she found her vocation, the actress never shied away from work, turning her hand to numerous genres and undertaking a strenuous schedule.
Julie's forte is her talent for mixing drama with comedy. She can be agonisingly emotive and side-splittingly funny at the drop of a hat. That is not to say she doesn't work hard, but that she has an innate ability to touch the genuine emotion of a character, and portray that feeling with a sincere realism. Actresses with loftier aspirations might view playing 'ordinary women' as a monumental lack of ambition, but Julie pours her heart and soul into every part.
On top of being a true pro, the overwhelming - if repetitive - observation from all her colleagues is that she is 'great fun'. And there is no clearer way to put it; she retains a refreshingly rosy outlook on life and makes work, on and off set, a barrel of laughs. She can ease the toughest and most tense scene, ad lib with the best stand-ups comics and wring the hilarity dry from a comedic moment. Her skill as a raconteur, combined with her uncontainable joie de vivre, makes her irresistible.
As she worked hard, so she played hard. Julie was always up for a good night out: she drank, she smoked, she ate takeaways and slept on other people's floors. Commitment, to anyone or anything, did not appeal. Then she found fame with the smash hit film, Educating Rita, and the parties became fancier and wilder.
Although courted by Hollywood, Julie remains true to the roots of her profession and chooses roles on merit, not money. While this is very noble, unfortunately it means that she doesn't necessarily receive the international recognition she deserves. Thankfully the recent globally award-winning film, Billy Elliot, helped to correct the public's underestimation of this fine actress.
Perhaps the saddest thing is that Julie Walters was typecast at a young age as an old biddy, a worrying mother and a frumpy housewife. Her modesty means that she isn't scared to appear as a hag, but make-up, padding and wigs often hide her beauty. She is petite, standing at just 5 ft 3½ ins, and boasts a slender figure, wonderful cheekbones and captivating smile.
Julie has certainly never been short of male admirers and had two five-year relationships in her teens and twenties. However, raised an independent woman, she heeded her mother's mantra: never rely on a man for anything. It was not until her late thirties that, without looking, she met Grant; a man with whom she felt she could spend the rest of her life. In her typically blunt fashion, rather than race him up the aisle, she asked if he would father her children. Their daughter, Maisie, was born two years shy of Julie's fortieth birthday.
For someone who lived a carefree life, had never settled down and was wholly unmaternal, motherhood hit Julie like a ton of bricks. She was engulfed by her new compassion and suddenly became committed to helping various children's charities. The couple's world was turned upside-down when Maisie was diagnosed with leukaemia at two years of age.
Understandably, Julie wanted to work less and look after her daughter, but as Grant was a student and she was the main breadwinner, she was forced to continue working.
It was possibly the hardest thing she had ever done. But, like everything in her life, when interviewed about this decision she was honest and open, freely admitting that at times she was jealous of Grant's relationship with their daughter.
Suddenly, the actress's outlook changed. She only undertook work that she felt was really worthy, and preferably filmed nearby. Nevertheless, she will always jump at the chance to work with Alan Bleasdale or Victoria Wood, considers both big and small screen equally and, although nervous of stage work, continually returns to the boards.
Despite her OBE, four BAFTA wins and two Oscar nominations, what Julie fails to come to terms with is her celebrity. 'When I think of the future I think of doing my washing, so I've something to wear tomorrow,' she shrugs.
She is, and always has been, utterly grounded. At the beginning of her fame, Julie attended a theatre award ceremony where she was honoured for her role in the stage version of Educating Rita. On the journey home, Julie and her colleagues noticed an old lady slip and fall into the gutter. Still in her finery and clutching her award, Julie leapt from the car and took charge of the situation. Drawing on her nursing skills, she checked the lady's vital signs and insisted on taking her to hospital herself.
Such a selfless action is typical of Julie.
This is the story of a fun-loving Brummie girl who has achieved immeasurable success in her profession, while remaining remarkably down-to-earth.
Julie Walters: Seriously Funny | Biographies | Written by Bryony