The Complete Guide To The Music Of George Michael & Wham! | Non-Fiction | Written by Bryony
'I keep fame in a little box and sometimes I take it out and enjoy it.'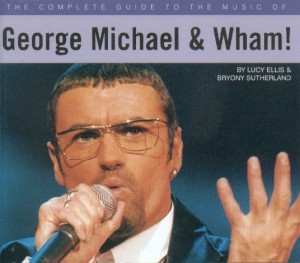 George Michael has always lived life at opposite ends of the celebrity spectrum, alternating between being an outstanding natural performer and a media-shy recluse. He has won countless awards including Grammys and BRITS, become the youngest ever recipient of the Ivor Novello Songwriting Award and been the first male artist to sell a million on CD format. Numerous charities have benefited from his generous contributions, especially causes related to AIDS awareness, the homeless and famine relief. Despite the above accolades, George's recent personal complications, bereavements and indiscretions have led him to believe that his carefree time with the teen pop sensation Wham! was the happiest period of his life: 'we were two kids at the top of a dream'.
Shirlie Kemp (née Holliman), former dollybird dancer with Wham! once stated, 'George Michael is someone who has been made up.' Indeed George made his debut on the 25th June, 1963 as Georgios Kyriacos Panayiotou. His close-knit, half Greek-Cypriot family provided a stable, yet upwardly mobile environment which enabled him to flourish as a studious, self-absorbed and content little boy. The turning point came when he encountered his alter-ego, Andrew Ridgeley, in his first year at Bushey Meads Comprehensive School. Ridgeley was super-confident, handsome and determined to be famous, be it as a swanky pop star or a heroic footballer, and much to the young George's parents' dismay the pair soon became inseparable. The intense bond was strengthened by a shared sense of humour and a joint love of their recently purchased copies of the LP Goodbye Yellow Brick Road by Elton John.
In a bid for teenage stardom, the duo joined forces with Andrew's younger brother Paul and school friends David Mortimer and Andrew Leaver to form ska-influenced group, The Executive. Although short-lived, band life gave the boys a taste for fame and following the group's inevitable demise in 1980, the musical partnership of George and Andrew metamorphosed into Wham! Andrew later divulged in Wham! The Official Biography by Luke Crampton: 'Getting George into a band at 16 was one of my most important contributions'.
Ignoring constant pressure from his father to 'get a proper job', George defiantly installed a rented porta-studio in Andrew's front room and Wham! set about recording their first demo tape for the princely sum of £20. The badly produced result eventually landed on the doormat of Mark Dean, a Ridgeley family friend and record industry whiz-kid. Sensing a spark of genius within the twenty second snippets of hits-in-the-making 'Careless Whisper' and 'Wham! Rap', Dean snatched up the teenage group as a figurehead for his fledgling Innervision label, a subsidiary of CBS. The resulting contract was a tough deal all round but a big break for three young men who at that stage were none too concerned with any legal implications and all too fixated with the prospect of appearing on Top Of The Pops.
'Wham! Rap' was the first release, and although the initial chart placings were disappointing, the single was well received by the press with NME encouragingly describing it as a 'spirited fist shaken in the face of adult apathy'. A second single, 'Young Guns', swiftly followed and rocketed to Number 2, establishing Wham! as the latest and greatest in a succession of fun-loving Eighties pop bands. Their success was consolidated with a tour featuring 'knobbly kneed MC' Capital Radio DJ, Gary Crowley as the warm-up act, and displaying the tantalising talents of female backing dancers, Pepsi De Marque and Shirlie Holliman.
The rest is pop history. George Michael swiftly took full control with the learned aid of his trusted publishers Bryan Morrison and Dick Leahy, and perspicacious managers Simon Napier-Bell and Jazz Summers. Upon the disintegration of their contract with Innervision, Wham! signed to another CBS subsidiary, Epic, and went on to top the charts and tour world-wide, notably becoming the first Western pop group to perform in China.
The first indication that George Michael might go on to achieve greater things came with the release of his first solo single, the heart-stopping 'Careless Whisper', during Wham!'s second album, Make It Big. Early on the boys had decided that Andrew Ridgeley would take a back seat in the writing, recording and producing aspect, instead overseeing the band's visual style and image. George's songwriting skills were rapidly improving into the work of a true craftsman, and his impressive vocal dynamism was honoured with the invitation to perform for Band Aid, and later at Live Aid. In a year when Wham! were popularly considered to be a laughing stock by more 'serious'-minded musicians, Live Aid made a genuine star of George, providing him with the credibility he so desperately sought, and proving that now was the time to break free from the constraints of his group.
The Wham! split was mutually agreed by George and Andrew in November 1985. They endeavoured to go out with a bang, organising a spectacular, one-off farewell concert entitled 'The Final'. Andrew went on to pursue a rocky course in motor racing, releasing just one equally unstable solo album, Son Of Albert, in 1990. At the time of the split George was confident that he could forge an auspicious solo career, cuttingly responding to Number 1 Magazine's query about Ridgeley's departure; 'Well, it's not going to damage my musical output, Andrew knew he was there for a purpose.'
Following a period of excess bingeing and depression, George pulled himself together and released his debut solo album, aptly titled Faith. Proving that scandal sells records, George's first single 'I Want Your Sex' provoked controversy and criticism but simultaneously boosted his persona in the public eye. Having sold himself so brazenly for the Faith album and ensuing tour, George about-turned and retreated from the intrusive side of celebrity life. His next venture was a more mature and profound album, Listen Without Prejudice Volume I, which was an attempt to shake his frivolous pop star image of the past. Poor sales of the album incited George to challenge his record company, Sony (who had recently bought out CBS), for 'unreasonable restraint of trade'. The opposing sides were consequently tied to a lengthy stretch of bitter legal wranglings before the companies Virgin and DreamWorks collectively paid $40 million to release George from his contract. The negative publicity surrounding the case has been attributed to inspire the recently released film, Bring Me The Head Of Mavis Davis.
George returned to the music scene in 1996 with the release of Older, which although downbeat became his most successful album to date, boasting a stream of Top 3 singles. A dark spate of personal tragedy tinged the songs and by baring his soul, George gained respect from critics who had previously derided his work. Stating 'I'd rather write a song about my private life than talk about it', George soon became known as an instinctive musician who is meticulous to the point of perfection.
George has always enjoyed collaborating with other high-profile artists and performing cover versions of his favourite songs, to the extent of dedicating an entire tour to performing other writers' work in 1991. The Miscellaneous section in this book is devoted to the subsequent releases of George's duets and covers, among other anomalies.
At present George is concentrating on his own recently formed record label, Aegean, which is fast becoming a leading force in the expanding world of the Internet. His impending solo Greatest Hits package is, at the time of writing, planned for release in late 1998 and will no doubt include some form of interactive element, in addition to the rumoured 22 hit singles and three or four new tracks. George is also the first popular singer / songwriter to limit his fan-club exclusively to the Internet.
The Complete Guide To The Music Of George Michael & Wham! | Non-Fiction | Written by Bryony