Tom Jones: Close Up | Biographies | Written by Bryony
PROLOGUE: IF I ONLY KNEW
"For me, fame has been a gift. If it limits me from going out alone because of the hassle, then that's a small price to pay for the benefits... My voice is a God-given gift, and I'm always aware and thankful for that."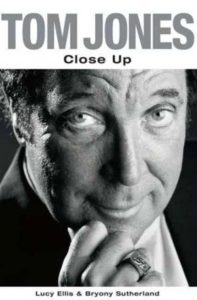 From Pontypridd to Vegas and on to Glastonbury, the unchallenged Voice of Tom Jones effortlessly bridges the gap between generations. Commanding respect from his contemporaries through pop's eternally changing faces and fashions, he has shared centre stage with performers ranging from the heights of Jerry Lee Lewis to the high-jinx of Robbie Williams. A self-confessed 'man who loves life', Tom has surpassed every expectation from a career that began nearly 40 years ago in the bar of a Welsh club.
Not least is he famed for the knicker throwing. He commands a truly devoted following who have contributed immeasurably to his success. His enduring rapport with his audience, be they 16 or 60, transcends the appeal of any other performer of his ilk. He is one of the few celebrities to be presented with a 'Star' in the Hollywood Walk of Fame by his fans, while his various appearances for charity have gained him respect from cynics and non-fans alike. As he approaches his 60th birthday, Tom Jones shows no sign of surrendering his title as Comeback King and moreover looks destined for even greater achievements.
The unprecedented vocal assault on the music world began in the early Sixties, when Tom 'temporarily' left behind domestic life in a bleak Welsh coal mining village for a stab at fame singing as Tommy Scott & The Senators. Resembling 'a bricklayer in a blouse' rather than a mop-top Beatle or a rugged Rolling Stone, Tom presented an unlikely candidate for chart success.
However, his extra years, experience and tight leather trousers lent his stage act a more mature and raunchy angle, securing him a previously unclaimed niche in bohemian swinging London.
Unforgettable hits like 'It's Not Unusual', 'Delilah' and 'What's New Pussycat?' propelled Tom to an extended period of world-wide stardom, which encompassed his own ground-breaking TV series and box-office records throughout five continents. Eventually Tom settled for a 'comfortable' position as a casino crooner in Las Vegas, enjoying to the full his millionaire status and playboy lifestyle.
While his career stalled momentarily under the gaudy neon lights of the gambling strips, Tom continued to capture headlines with his avid dedication to wild all-night parties, countless lusty affairs and alcoholic brawls, all of which provoked tabloid scandals and court cases. Following misguided instruction from his omnipotent manager Gordon Mills, Tom unwisely branched out into country music and unwittingly forced himself into semi-retirement. The roller coaster ride of the boy from the valleys seemed to have screeched to a halt, until the untimely death of Gordon Mills allowed Tom's son Mark to take over the reins and perform a much needed facelift on his father's floundering fortunes.
With the trendy cover of Prince's 'Kiss' with The Art Of Noise, several parodic TV appearances and a publicly heightened social conscience, Tom's star began to shine once more as he hit his fifties. The glamorous granddad uncovered a new generation of worshipful admirers in the Nineties crowd, who served to reinvent him as an alternative icon for the new millennium. Tom still tours relentlessly for up to nine months of the year, tirelessly performing 150 to 200 shows a year. At the turn of the millennium we see him turning more to collaboration with his number one duet album, Reload, and film work with a major role in Agnes Browne. Once again Tom appears to be 'fashionable' as well as famous, stating recently in the New York Times: "I just do what I do. If people think it's hip, well, thank God."
Unquestionably, despite the immense diversity of his incredible career, music will always remain Tom Jones' greatest passion, as he said in 1974: "There's nothing like it. I could give up television and recording if I had to, but I'll stay on stage until I'm 97 if I'm still around and people still want to see me."