Uma Thurman - The Biography | Biographies | Written by Bryony
Prologue: Not So Pleasantly Dumb
'Uma is not conventionally beautiful. But it's an amazing face to work with. One moment, she can look like Marlene Dietrich, the next like Bette Davis.'

James Ivory, director, The Golden Bowl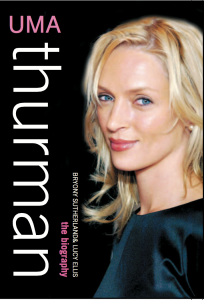 In the Swedish port of Trelleborg stands a magnificent statue of a woman. Tall, striking and entirely naked, the effigy depicts Birgit Holmquist, a native beauty who would one day marry a German baron and travel the world. Her stance is open yet poised for flight, her seaward gaze wistful and otherworldly.
Years later an unknown teenage actress would ensnare the attentions of a million movie buffs, arising radiant, serene and wholly unclothed from a scallop shell in Terry Gilliam's cult fantasy The Adventures Of Baron Munchausen. Although essentially recreating Botticelli's Birth Of Venus for the big screen, the scene unknowingly mirrored Birgit's silent, brazen statement to her Swedish hometown. The ingénue gracefully ascending into the public's consciousness some fifty-nine years later was none other than her granddaughter, Uma Thurman.
No journalist interviewing or writing about Thurman is able to avoid passing comment on the actress's extraordinary looks. All too often her considerable talents are skimmed over in favour of rapturous appreciation of her curvaceous six-foot frame, impossibly long limbs and flawless complexion. Her face alone stops traffic: the bone structure sharp, the nose regal, the aquamarine eyes spaced so unnervingly far apart it is impossible to focus on both simultaneously.
Oddly, there's something about this very exotic combination which provides a completely blank canvas for her work. Uma can look exquisite, yet with an imperceptible shift in her features, repulsive. She's ideal fayre for a costume drama, virginally innocent in a bodice-ripper, cute in a rom-com, vampishly seductive in a blockbuster, petrifyingly heroic in a revenge epic. She's also the kind of Hollywood A-lister who can blend invisibly into a crowd, conducting her everyday affairs largely unnoticed despite her supermodel proportions.
Unquestionably, behind the beauty there are brains. In the year she arose naked from the scallop shell, eighteen-year-old Uma commented, 'Because of the way I look, people think I should be quite simple, but fortunately I'm not so pleasantly dumb.' Indeed, just a passing glance at her immediate gene pool and influences (the Baroness and her Baron; an off-Broadway actress; a model-turned-psychotherapist; a celebrated professor and Tibetan Buddhist monk; a revolutionary narcophilosopher) strongly suggests that this is no blonde bimbo. And you don't go through marriages to such brilliant actors as Gary Oldman and Ethan Hawke without picking up a thing or two.
Understandably Uma detests the all-too-easy label of 'thinking man's sex symbol'.
'It's primarily condescending,' she says. 'Always that thing of "but she's intelligent", with these quotes around it. Like it's such a big deal that an actress has half a brain.'
It is an issue she has not allowed to cloud her career. 'I wasn't discovered at McDonald's or Howard Johnson's,' she laughs. 'My background prepared me for life and gave me a fairly open, free-thinking atti­tude to life and this business we're in. Common sense is highly underrated, don't you think?'
Somehow, neither common sense nor the experience garnered from exposure in over thirty films has made her comfortable with fame. 'I still don't feel completely at ease having attention focused on myself,' she confessed in 2003. 'Although, I am aware that's something of a contradiction for me as an actor, whose pro­fession invites people to focus on you!' According to her close friend Natasha Richardson, the intimidating persona Uma often presents to the public hides a 'real vulnerability' and, in private, she finds it difficult to let her guard down.
Probably because of her ongoing need to challenge people's perceptions, the actress's film choices have always been intriguing. More than any other performer of her generation, Uma tests herself each and every time to try something different.
'I have to keep interested,' she explains. 'I can't imagine playing the same genre or the same kind of role over and over again. I've always tried to do the opposite to what I just did, and I don't know if working that way has helped my career, but I needed to do it. But it's been hard having such a schizophrenic career.'
This diversity has led to some impressive pairings, both with her directors (Terry Gilliam, Stephen Frears, Gus Van Sant, Joel Schumacher, Woody Allen, James Ivory, Quentin Tarantino) and her co-stars (Robert De Niro, Vanessa Redgrave, John Malkovich, Richard Gere, Liam Neeson, John Travolta, Ralph Fiennes, Gérard Depardieu, Ethan Hawke).
In fact Uma has often chosen to stay in the background, usually at the expense of a third billing, in order to fulfil her desire for constant creative change: 'I like to move laterally. I'm very comfortable sliding from side to side,' she says by way of explanation.
The downside to this is that besides the handful of obvious titles like Pulp Fiction, Kill Bill and Dangerous Liaisons, the average viewer might be hard pressed to name more than a fraction of Thurman's considerable CV, although retaining the distinct impression that she is an actress of quality. 'I have a mixed career, but a number of times I've been asked to play very cool characters,' she admits.
There are benefits to this conscious decision to avoid the limelight in the majority of her work. When Uma has a hit, it sticks, and the box office success allows her to experiment further with the benefit of a high degree of recognition. When one of Uma's films bombs – and several have, significantly – somehow she is either not attached to it enough for it to affect her career, or her own performance lies blameless, and she sails on to the next project without a backwards glance. (Apparently Uma's favourite fortune cookie message is 'Remember the lesson, forget the experience'.)
Equally, Uma's unusual need to skip from genre to genre means that she has already proved herself in a huge variety of 'character' roles, ensuring a far easier shift to meatier parts as she matures. She's rarely played 'the girlfriend' or relied solely on her looks, so is likely to be with us for many years to come.
'I remember thinking that I didn't want to be the flavour of the month,' she reflects on her eighteen-year career. 'I've always tried to define myself as more than one thing, and it's important to me to have the courage to fail, to keep trying different kinds of roles.
'I wanted to know what comedy was like, what a thriller was like, what action was like, what dancing and singing were like. From a craftsman's point of view, I wanted to try to perfect myself in as many directions as I could.'
As a craftsman, Uma remains unsurpassed in her generation. As an individual, her story is unique, as full of hits and misses as her work to date and easily as fascinating. The actress herself admits,
'Sometimes you get to paint with a role. Sometimes you can only plaster.'
Uma Thurman - The Biography | Biographies | Written by Bryony